Green Card is the document granting you the right to live and work in the US permanently. There are numerous steps for application changing from individual to individual. Here in this writing, you will be introduced to the essentials of the Green Card application along with many useful links directing you to the right sources!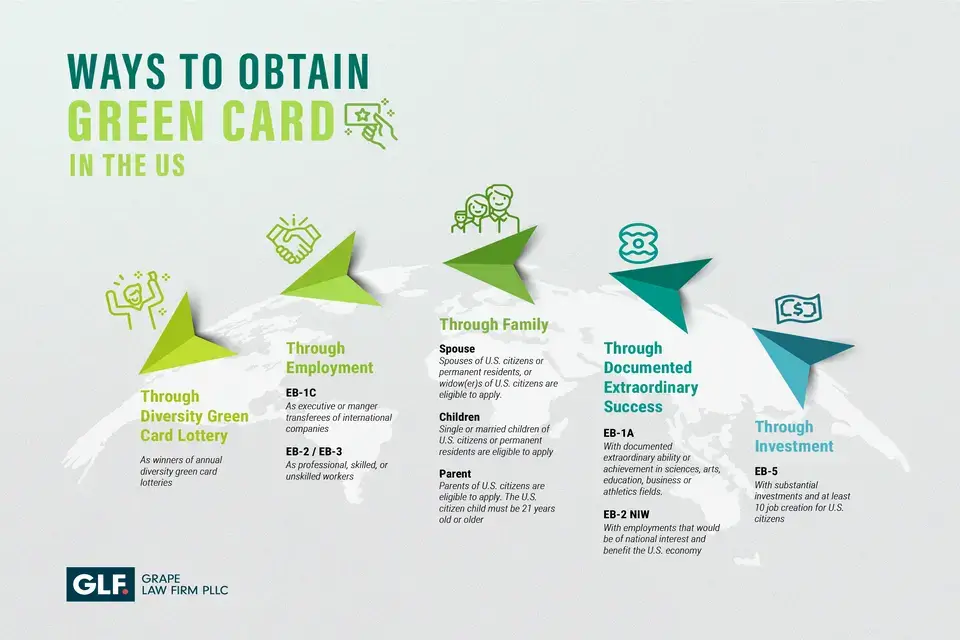 Application Eligibility
Firstly, you need to learn whether you are eligible for the application or not. For this, you can check various immigration categories. To reach Green Card eligibility categories, please see this list.
Find Your Application Sponsor
The majority of applicants will need lawful residents of the US (sponsor) for their immigration petitions. An immigration petition is a must in most cases and has many forms. You can reach the most common forms using this link:
There is some exception to the petition requirement. Please carefully read your eligible category details to learn more on this issue.
Select Your Application Process
If you are eligible for an application, then you can proceed to select which application process you will be using. There are two application processes. One is "Adjustment of Status", and the other is "Consular Processing".
You proceed with "Adjustment of Status" if
You are currently in the U.S. and want to switch your status to lawful and permanent resident.
You proceed with "Consular Processing" if
You are currently abroad and want to become a Green Card holder.
For details of each specific application process, please follow the links below to learn more:
Common Steps to Follow for Your Application
Adjustment of Status and Consular Processing share some of the procedures required when applying for a Green Card:
Immigration petition is a must (with some exceptions, which I mentioned above).
Filing your application document.
If you are proceeding with Adjustment of Status, you file your application by filling the document I-485. For posting, you can find this link useful.
If you apply through Consular Processing, you should file an immigration application visa at the U.S. consulate of your place of residence.
Go to your interview appointment (This is only required for Consular Processing. However, Adjustment of Status applicants might as well be called for an interview).
Submission of the decision of your application. You will be sent either a Green Card or a visa packet. This depends on your application process. Application processes links do have the necessary further information.
The Green Card lottery is the most common way into your U.S. citizenship. Millions of people from all around the world try their chance at obtaining this visa. Therefore, Green Card popularity poses many legal questions that need answering. As a dynamic, up-to-date immigration law firm, we know the potential legal challenges and hardships that accompany your application. In that regard, we offer you meticulous and enlightening legal services that will ease your burden as well as your stress. We believe in the promise of our motto, and we care, we work, and we get better, together.