Many dreams of starting a new life in the U.S. Getting a visa and immigrant status might be a long process to realize this dream, depending on your conditions. However, this is different with H-1B and H-1B1 Visas. These visas are called "Person in Specialty Occupation" and are issued explicitly for people with higher education degrees, such as bachelor's or graduate degrees.
Although H-1B Visa and H-1B1 Visa are both non-immigrant worker visas for persons in specialty occupations, they are different in the sense of who can apply for these visas.
What is H-1B Visa
H-1B visa is a specialty occupation non-immigrant employment visa for professionals seeking specialty jobs in the U.S. H-1B visa requires visa applicants to have a higher education degree or equivalent. This entails bachelor's or higher degrees such as M.A. or Ph.D. If you don't have formal education, you can present your work experience as proof of qualification. For example, three years of work experience equals one year of formal education. H-1B is an employment-sponsored visa. There is a cap for applying for an H-1B Visa. Currently, the cap per fiscal year is 65.000.
To apply for an H-1B visa, the individual must have a valid job offer from an employer in the U.S. Moreover, the employer should prove that no U.S. citizen is qualified for this job. After that, the individual could fill up their online registration form on the USCIS website. This qualifies them to enter the lottery for H-1B Cap. However, there are some exceptions to the cap:
For individuals who obtain a graduate degree from an American institute, there are 20.000 places for applying for H-1B Visa.
For individuals whose sponsors are higher education, a charity institution of a higher education institution, or government-supported research organizations, the H-1B cap does not apply.
After the lottery period, USCIS would notify the applicant whether they could apply for the visa. The applicant could start their application process by collecting the required documents in this case. The petition from your U.S. employer is a must for your application. Additionally, premium processing is available for H-1B Visa.
While holding an H-1B Visa, you can change your status from H-1B to Green Card. However, there are some requirements to start this process. In writing, we will give you details about the process and requirements. Finally, the applicants' spouses and children (under the age of 21 and single) can accompany them during their stay in the U.S.
What is H-1B1 Visa
As H-1B Visa, H-1B1 Visa is also a temporary non-immigrant employment visa for a specialty occupation. However, the U.S.- Singapore Free Trade Agreement and the U.S.-Chile Free Trade Agreement, which took effect on January 1, 2004, created H-1B1 Visa only for the citizens of Singapore and Chile.
H-1B1 Visa also has a cap. It is less than the H-1B cap. It is important to remember that Singaporeans and Chileans who apply for H-1B1 Visa can also apply for H-1B Visa. -snippet-
The applicants' spouses and children (under the age of 21 and single) can accompany them during their stay in the U.S.
Below are the differences between the H-1B Visa and H-1B1 Visa.
H-1B vs. H-1B1: Differences to be Aware of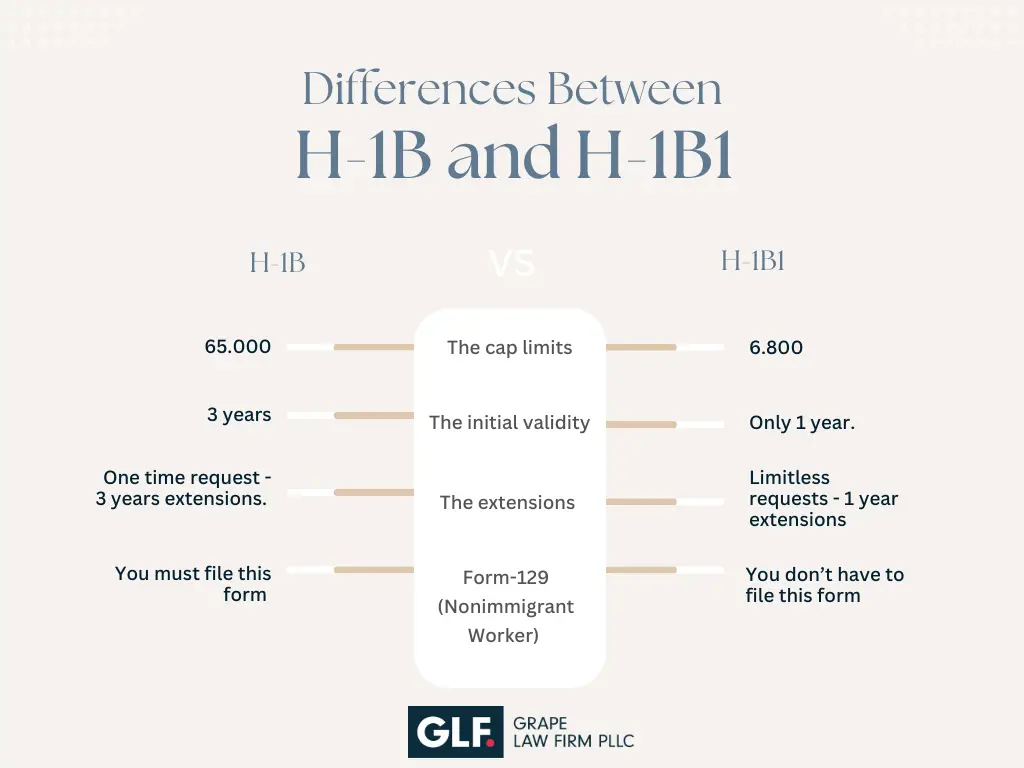 As noted above, you may be a citizen of any country eligible for an H1-B Visa. However, H-1B1 is only for Chileans and Singaporeans.
Both visas have caps limiting the number of visas issued for a fiscal year. However, their cap numbers vary greatly.
The current number per fiscal year for H-1B is 65.000. However, if you are a master's or higher degree graduate of a U.S. institution, there is an extra 20.000 quota for you.
The current cap number for H-1B1 is, unfortunately, much lower than H-1B. The cap is 6.800 in total. For Chileans, the limit is 1.400, while for Singaporeans, it is 5.400.
The initial validity for an H-1B visa is three years, while the duration for an H-1B1 is only a year. Therefore, you may request a one-time 3-year extension for H-1B. On the other hand, if the beneficiary has been physically absent from the U.S. for more than one (1) year, he/she/they are eligible for another six (6) years in H (or L) status. In other words, the six-year clock "restarts" if the beneficiary has remained outside of the U.S. for twelve (12) consecutive months. However, H-1B1 allows only one-year extensions. Fortunately, these extension requests for H-1B1 are limitless!
Unlike H-1B Visa, which is a dual intent visa, while applying for H-1B1, the applicant must demonstrate they do not intend to immigrate to the U.S. permanently. You can apply for permanent residency on H-1B Visa.
Form I-129, Petition for Nonimmigrant Worker, must be filed by the USCIS for H-1B applications. However, there is no such requirement for H-1B1 applications. For H-1B1 applications, the individual can apply for the visa directly at U.S. Consulate in their home country.
Grape Law is Here to Help You!
The H-1B and H-1B1 Visas are convenient options for educated employees. As this is a specialty occupation visa, you may qualify for and be issued visas comparatively quickly. If you meet the requirements for one of the visas or both, you may contact us and schedule an appointment regarding your questions and inquiries. We are looking forward to hearing from you!